Overview​
Major Upgrades highlighted here:
| Component | Current | Previous |
| --- | --- | --- |
| scantrust portal | v1.24.0 | v1.23.2 |
| Scantrust (Android) | v2.0.0 | v1.9.1 |
| Scantrust (iOS) | v2.0.0 | v1.7.0 |
The Scantrust Platform is updated continuously. Release notes are created when there is a substantial workflow for feature change that is not backward compatible or when a sufficient number of small changes exist that can be summarized. These changes are accompanied by a major or minor version number change. App updates are bundled with these releases, but also have their own release notes when released separately.
Notable Features & Updates​
This list includes important and interesting changes or features. More detail change lists about feature changes and updates can be found in the individual component change list appendix.
STE TASKS​
The STE Tasks feature helps to streamline operations, especially those with many different users in different roles associating data to QR codes via the Scantrust Enterprise (STE) App.
This new feature allows clients to manage their specific tasks that different users on different teams (i.e. warehouse operators, inspectors, etc.) see and need to complete when they login to the STE App. For example, when a warehouse operator signs into the app, they will only see the tasks which are available for them to perform (e.g. unit-to-case aggregation), whereas an inspector may only see an authentication task when s/he signs in.
The STE Tasks feature will remove complexity for Enterprise app users by only showing them the actions they are allowed to perform based on their team and campaign assignment. (Please see screenshots below for a comparison of the new and old login screens.) The STE tasks feature will also speed up implementation time without the need to customize individual screens for the customer and without needing multiple app upgrades.
The tasks are created and managed at a campaign level in the Scantrust portal with the help of Scantrust Engineers. New tasks for each campaign can be added easily, without having to release and install a new app, as access to campaigns and tasks is based on assignment via the Teams feature.
STE APP Screens for campaigns using tasks feature​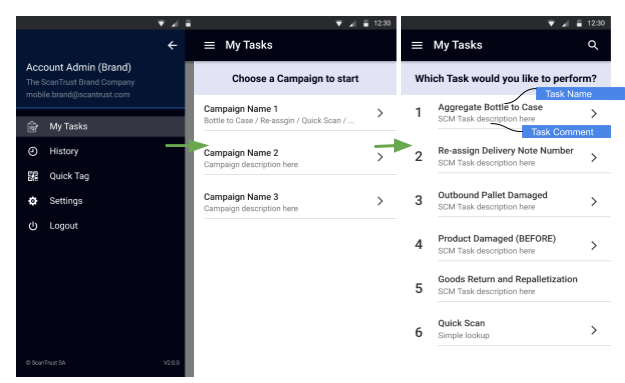 STE APP Screens for existing campaigns (No tasks)​
Scanning options (Authenticate/Quick Scan) were in the side menu before. Now available inside the campaign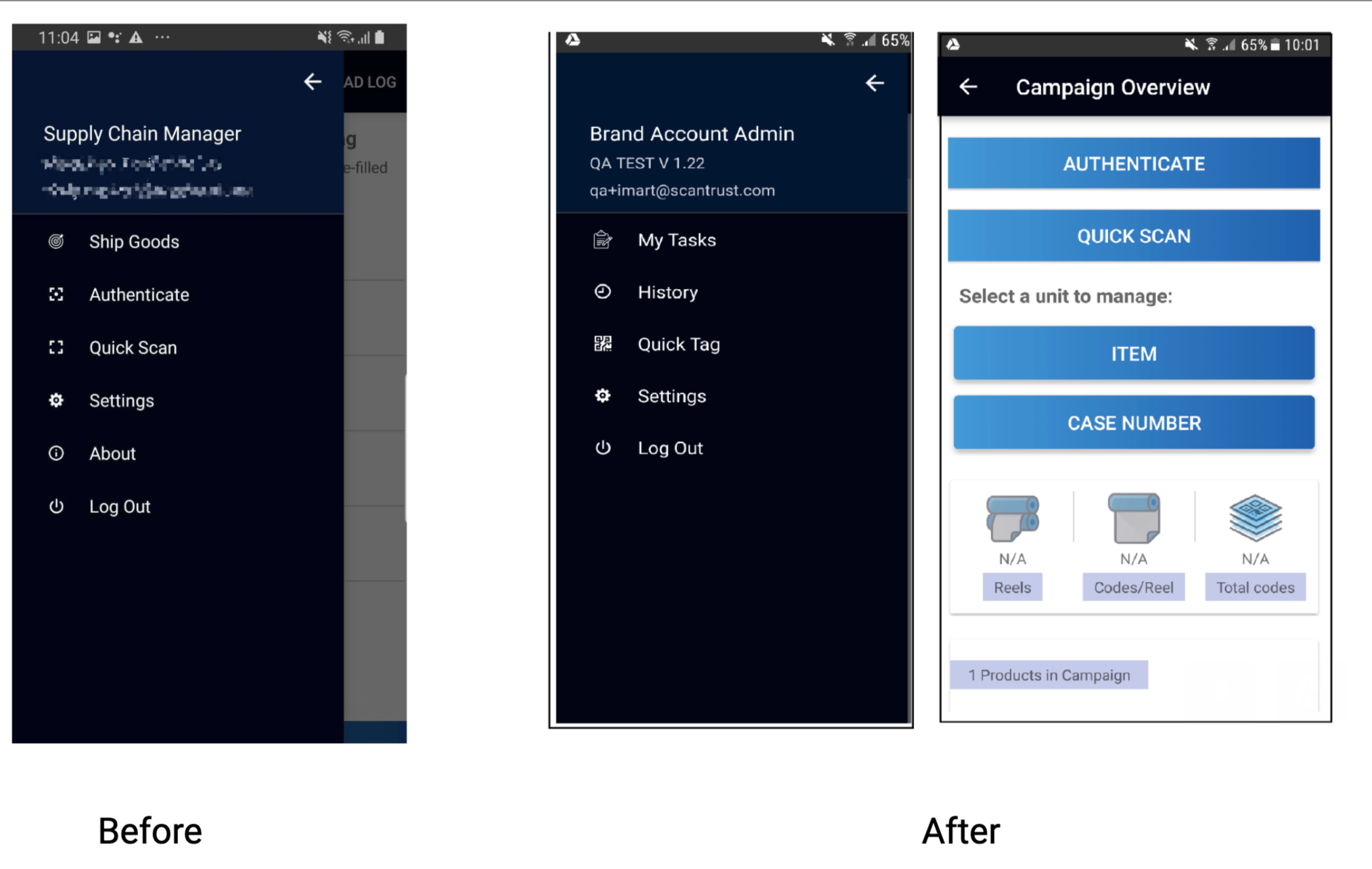 THE FANTASTIC STE TASK EDITOR​
Account admins can add/update STE tasks using the Task Editor, available on the Scantrust Portal.

Task access can be easily updated from the editor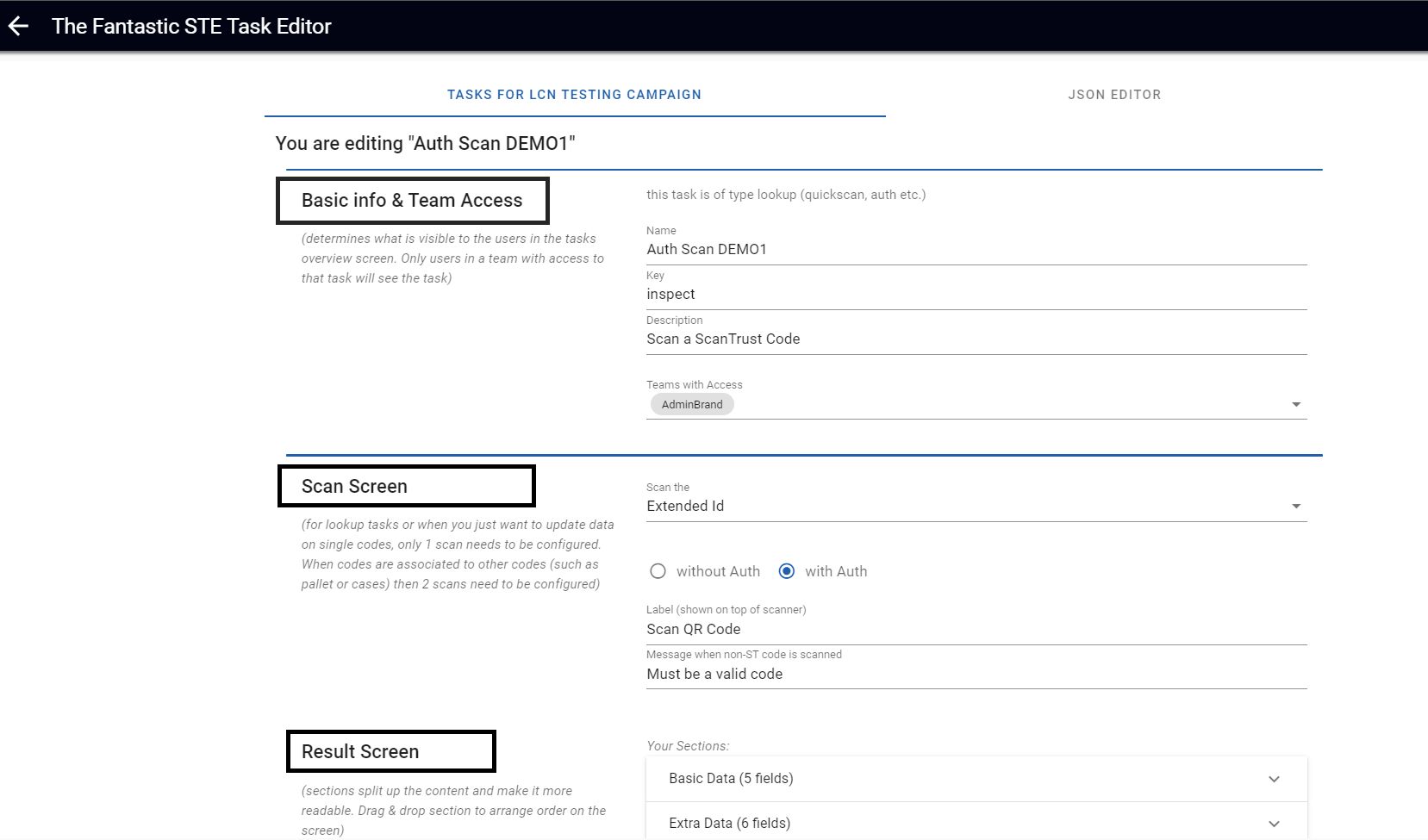 The STE Tasks Editor also helps to configure the type of upload data [aggregate items to cases, ship cases, etc) and type of code [QR code, barcode..etc]
To Note:
Users must be assigned to a specific Team in the company in order to access campaign tasks
Users can be in multiple teams and multiple teams can have access to each campaign
The existing campaigns will now show "My tasks" instead of "Ship Goods" with campaigns listed and functioning as before the update.
Individual Component Change List​
A more detailed list of the substantive changes affecting each component.
Mobile​
Android Scantrust Enterprise v2.0.0​
Adds support for STE tasks feature
iOS Scantrust Enterprise v2.0.0​
Adds support for STE tasks feature