| Platform | Version | Date |
| --- | --- | --- |
| scantrust portal | 1.0 | 10-02-2023 |
Features​
We are launching this feature to help our wine & spirit customers to meet their EU regulation needs for ingredients and nutrition declaration.
This feature can be accessed from the Product page & QR Manager.
This feature is available for all Enterprise customers.
You will have to set up the Campaign redirection to E-label and assign your product to the campaign.
User can fill in the information that is required for EU regulation on ingredient & nutrition declaration: 1) Nutrition table is based on specification in this EU regulation; 2) Ingredient list is based on specification in this EU regulation.
The E-label information is by SKU, which means only one set of E-label information per SKU.
E-label does not work for SKU that previously has Smartlabel information.
Users can choose to fill in the E-label information from scratch or copy the information from other E-label (translations will be copied over as well).
Brand name, product name & product image are automatically populated with the information from the Brand & Product page, thus the user shall always fill in the correct brand name, product name & product image.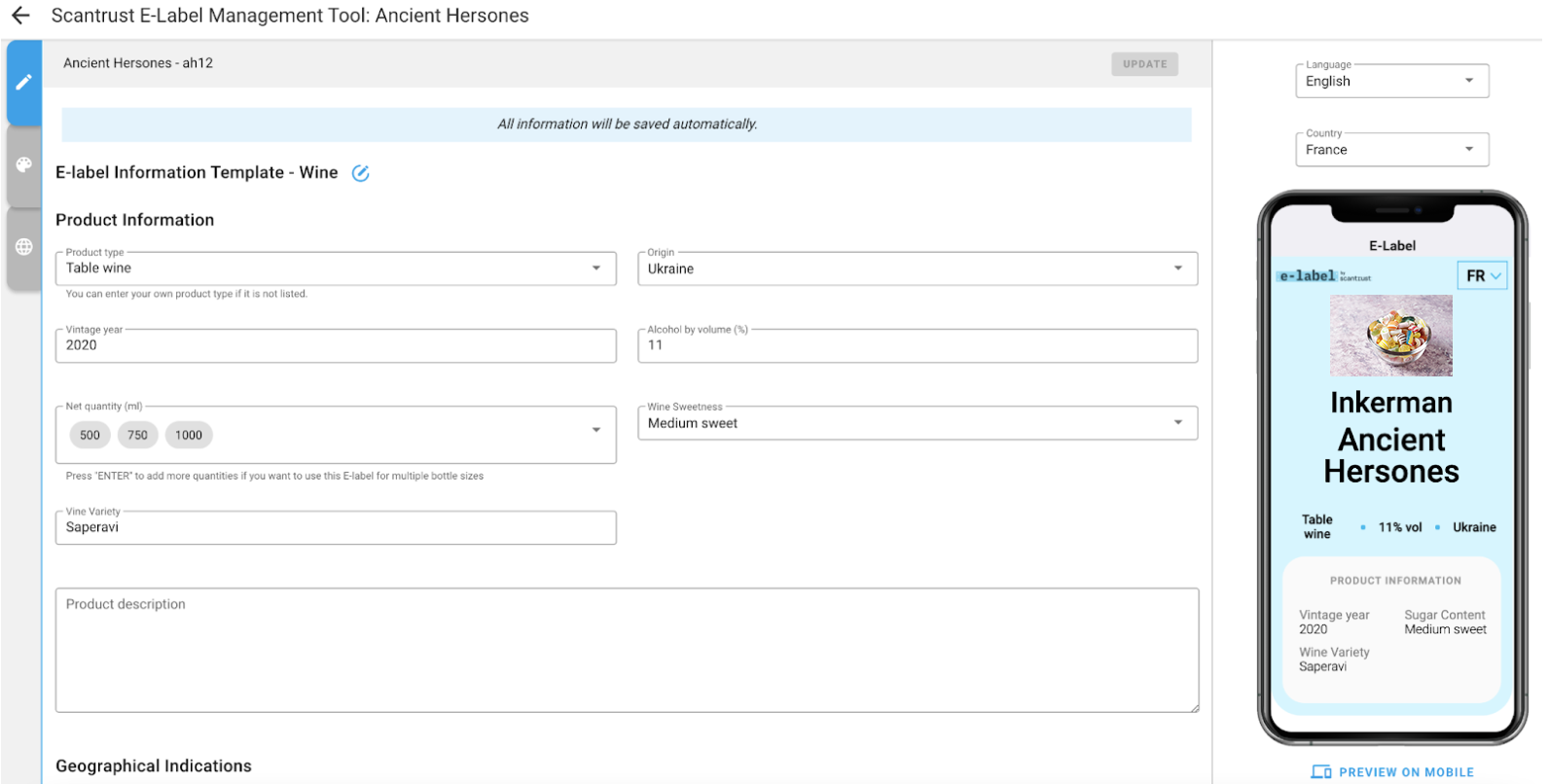 Users can fill in country-level information for the sections below:
Serving size;
Alcohol risk warning labels;
Sustainability labels;
Business operators.
If users do not want to show certain sections to consumers, they can skip filling in the section, except for mandatory fields.
Users can change templates while editing, however they will lose all previous edits and start from scratch on the new template.
Users can customize the E-label landing page.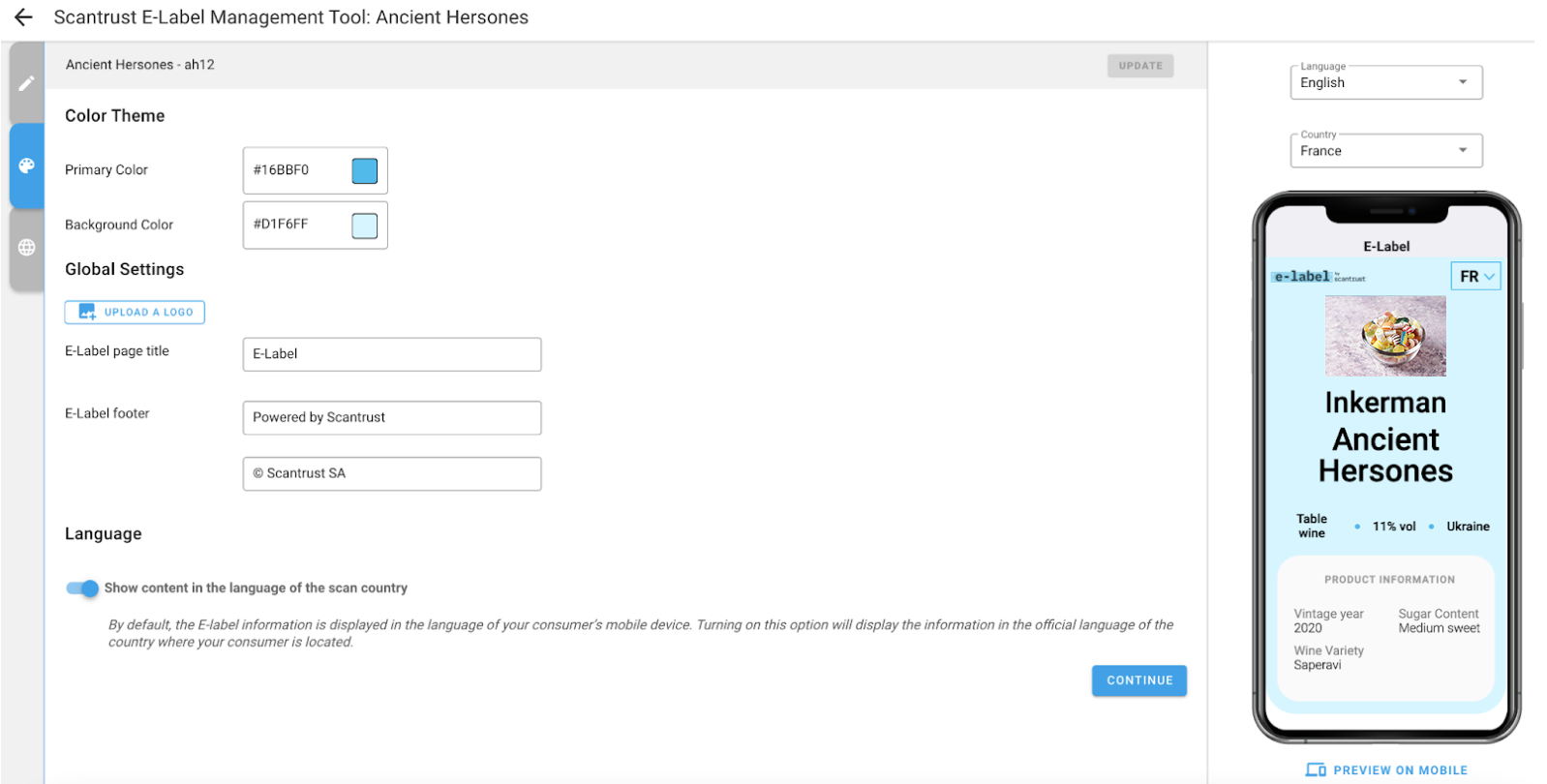 We offer two option of displaying language on the landing page:
Display in the scan country official language;
Display in the device language.
If a user scans from a country where the translation is not available, we display the reference language by default.
If a user scans from non-EU countries, we show France content by default. The language display is French or device language, depending if the display in the scan country's official language is turned on.
Users can preview the E-label landing page for language and country:
Country preview is for country level information;
If you turn on the pairing of country-official language, the language & country that you select for your preview may not represent the final presentation to the consumer. You will have to select the official language of the country to see the accurate preview.
Users can translate and publish E-labels in 24 EU official languages. Users can also download and share the translations in a CSV file and re-upload translations by copy & paste into the portal.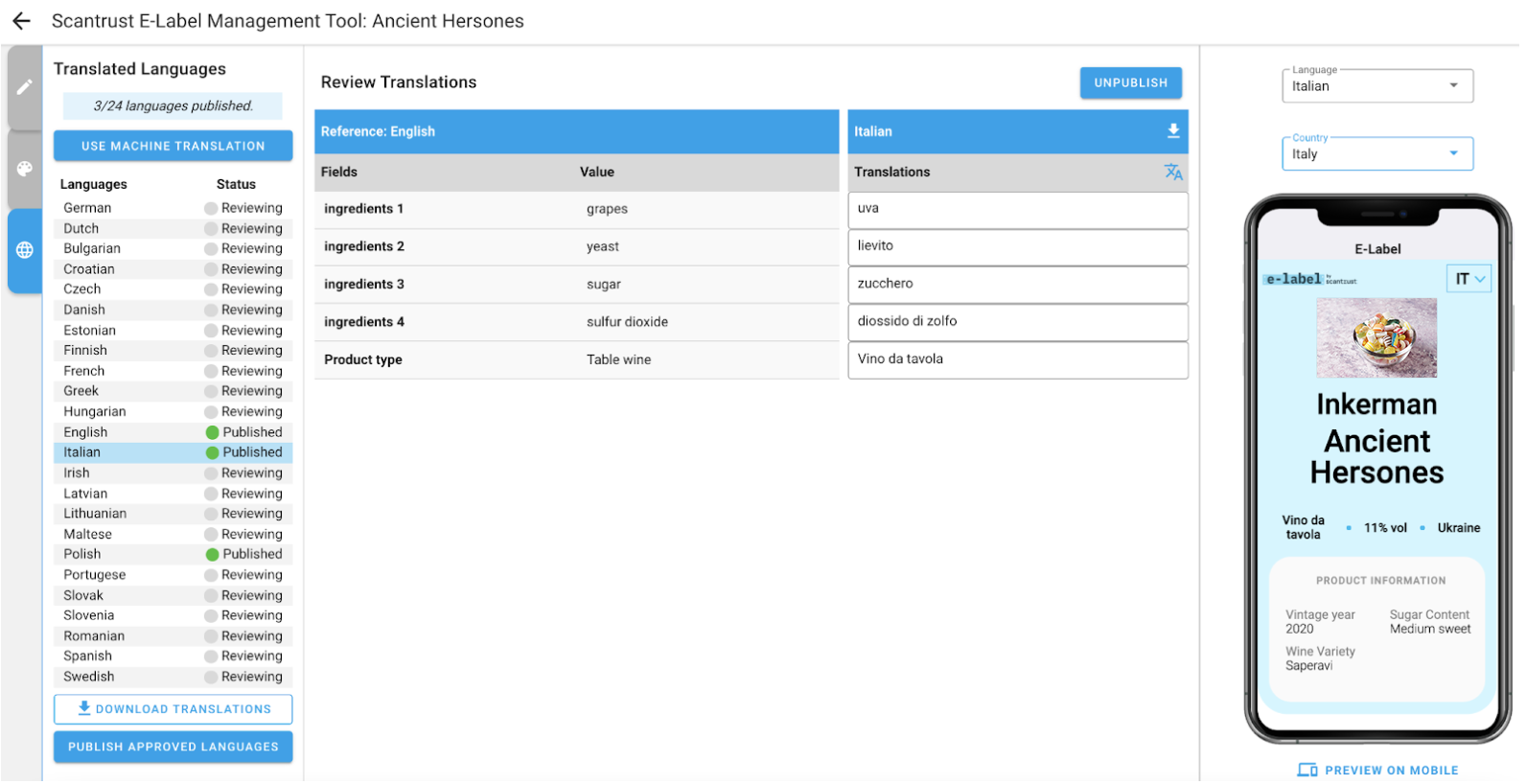 QR Manager:
Users can access the E-label Management Tool from the QR Manager.
Users can see the E-label publication status on the product.